MIELE COMPLETE C3 MULTI FLOOR OBSIDIAN BLACK VACUUM CLEANER - 10797850 (SGFA3)
MIELE COMPLETE C3 MULTI FLOOR OBSIDIAN BLACK VACUUM CLEANER - 10797850 (SGFA3)

Product Description
MIELE COMPLETE C3 MULTIFLOOR OBSIDIAN BLACK VACUUM CLEANER
Model:
10797850 (SGFA3)
Finish/Colour:
Obsidian Black
Size:
227mmH x496mmD
Vacuum Type:
Barrel
Vacuum Bag Type:
Bagged
HEPA Filter:
Yes
Weight (kg):
8 Kg
Power (W) :
2000 Watts
Three-piece accessory set, upholstery nozzle, crevice nozzle, dusting brush with synthetic bristles, floorhead SBD 285-3, parquet brush twister SBB 300-3, HEPA AirClean filter
Design for:
Tiles and Carpets, Anti Allergy & Hard Floors
Use:

Not intended or designed for commercial use
Gentle on delicate hard floors
Maximum air hygiene with HEPA AirClean filter
Telescopic tube is ergonomically adjustable and locks in place
Cable, suction tube and suction hose combine to provide an especially large operating radius (without having to switch power points)
Maximum suction power, due to its 2,000 wattage
The entire cable can be rewound by tapping on the footswitch once
Electrical Connection - 10amp
Length of cord -
7.5 m
HEPA AirClean Lifetime filter
This is Miele's most efficient exhaust filter. HEPA stands for High-Efficiency Particulate Arresting. It's the recommended filter choice for people with allergies, because it traps even the tiniest pollutants. These filters have been proven to retain more than 99.95% of dust particles. The air that is processed through this filter and expelled by your vacuum is more hygienic than the air surrounding you.
Parquet Twister Floorbrush
A hard floor does not amount to a hard task with Miele's Parquet Twister floorbrush. Surfaces such as laminate and polished concrete are prone to scratching easily. The Parquet brush is the ultimate in soft-bristled sensitivity, cleaning your home with a less-is-more approach.
DynamicDrive Castors
This vacuum is equipped with four 360 degree castor wheels, each with a rubberised tire. Hard-wearing, gentle on floors, and durable, the castor wheels ensure the easy manoeuvrability and control of this unit.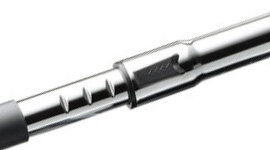 Telescopic Rod
Extending the vacuum rod, you can clean pesky hard-to-reach areas for an all-encompassing household clean. The rod can then be shortened for easy storage.
Delivery Information
Free Delivery is to Metro areas within most Australian states only (Excludes Western Australia, Northern Territory & Tasmania - Fees Apply) - Strictly on Selected products only as listed* Delivery to Victoria is generally 2-7 business days and Interstate deliveries being 3-10 business days, this can vary depending on the exact location of the delivery & if the product is in stock If unsure if you are within a metro area or for more information, please view our DELIVERY & RETURNS page
Delivery to Victoria is generally 3-7 business days and Interstate deliveries being 3-10 business days, this can vary depending on the exact location of the delivery & if the product is in stock with Berloni Appliances or if it needs to come from the manufacturer. If a product is required urgently please contact us prior to purchasing to confirm stock availability. Store pickup also available which can be done as soon as the product is available. To get delivery cost simply add product/s to your cart and proceed to checkout to calculate delivery cost before purchasing. For more details on deliveries please go to berloniappliances.com.au/delivery
Other Details
Offer:
Last Unit Available Brand New In Box!
Product Reviews
This product hasn't received any reviews yet. Be the first to review this product!